Revival nach 17(!) Jahren.
Mehr Infos siehe www.lehmayr.de
Zum Verbinden über UART mit den "modernen" FTDI-Arduino-Adaptern:
Am Pocket Pin 5+8 auf 5V (Pin 10 und 13).
Pin2 = TX, Pin3 = RX. Pin11 = Ready to receive.
Im FT_PROG die RX/TX invertieren!
Der Pin11 geht über einen Transistorinverter auf den UART CTS!
Danach kann man ganz normal mit LOAD und SAVE und INPUT #1Varname(*) Daten austauschen.
Den 2kB RAM kann man mit dem Hilfprogramm in L17 befüllen. Am Pocket GOTO 17, am PC die Datei 2kB-RAM.txt senden.
Die Variablen habe ich einzeln mit DIM angelegt. Beispiel: DIM M$(0,13)*72. Dann kann man sie mit INPUT #1M$(*) übertragen.
Wichtig: Die innere Uhr hängt auch am 15pol. Anschluss, die geht nur, wenn die Verbindung abgesteckt wurde!
Stellen der Uhr mit GOTO 8200 und GOTO 8205.
Spiele sind in DEF S.
Später habe ich den alten COMPAQ-PC aufgestellt und TransDrive/Diskettenemulator verbunden. Dann den alten PC mit dem Laptop per Nullmodem-Kabel verbunden. Auf dem Laptop lief Dosbox unter Linux mit einem USB-serial-Adapter. Der alte Norton Commander NC5 übertrug dann die Dateien! Zwischen den Computern liegen über 30 Jahre!
Fazit:
Der Weg über die serielle Schnittstelle, dem FTDI-USB-Arduino-Adapter und meinem PocketASM-Tool ist deutlich bequemer.
Mit diesem BASIC-Loader kann man auch (fast) alles laden:
10 CLOSE : OPEN : INPUT X: FOR X=X TO 65535: INPUT #1Y: POKE X,Y: NEXT X
Am PC muss man halt die Daten in eine Textliste umformatieren, jede Zeile eine Zahl.
Wenn man die ganze Karte sichern will, geht das am bequemsten so:
20 CLOSE : OPEN : INPUT X: FOR X=X TO 65535: PRINT #1 PEEK X: NEXT X
Unter Linux geht das mit cutecom: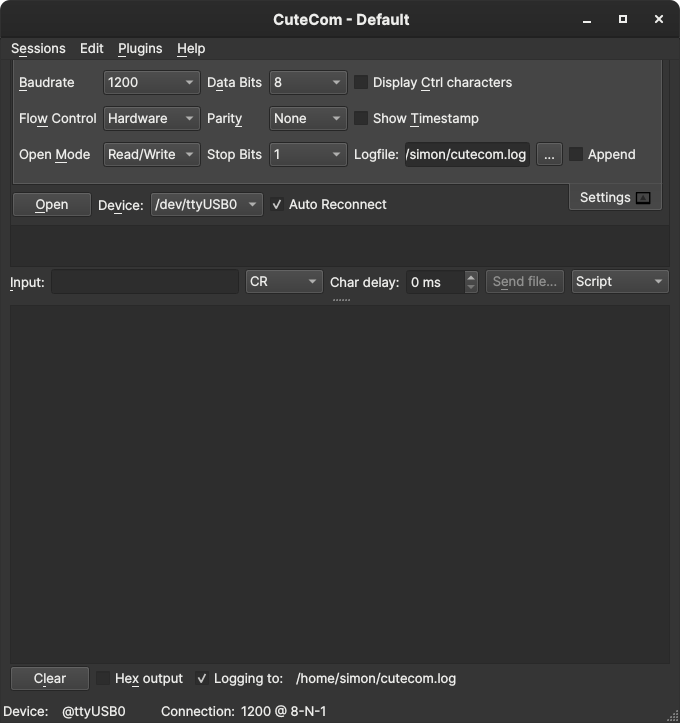 Wichtig: Damit der FTDI-UART läuft, muss man brltty (Blindenterminal-Daemon) entfernen!